COMPACTOR SHEEPSFOOT-33″
$230.00 – $2,760.00
Years of experience with trench compaction has led the way for the P33/24 HHM series.
Description
Years of experience with trench compaction has led the way for the P33/24 HHM series.
New design and performance features provide for a roller that is ideal for the high-production job site applications with the highest centrifugal force of any walk-behind trench roller. Available in manual and manual/remote control versions, the HHM has all of the great features found on the FM and HM series models plus much more.
Air intake located at back of engine hood not front of roller where the air is heavier with dirt
Central lifting eye is an integral part of the chassis, helping to prevent premature wear of shock mounts when lifting the roller
Battery located next to engine for easier access and servicing
Solar-powered infrared remote control with ten transmission channels allows multiple rollers on one jobsite with no plug-in recharging Clam-shell hood allows easy access to all engine service points
In remote control mode, the operator's control panel can be closed for security and protection from debris
Throttle lever safely tucked under the control panel to protect it
Uni-body construction provides rattle-free operation, and prevents dirt from entering into the engine and body compartments
Manual or infrared operation is possible on HHMR units with two different systems—if one fails, the other remains in operation
HHMR units feature a remote transmitter housed in a concealed storage box for safe and convenient storage.
Digital control panel. Diagnostic codes are displayed in the event of an electrical malfunction, assisting technicians in troubleshooting the machine. This feature is standard on all P33/24 models.
Multiquip introduces the next generation of Rammax trench rollers.
The P33/24 FC(R) models feature a proven unibody design and include a convenient hand-held cable control. This allows the operator to direct the machine's function from a safe distance — and with no vibration transmitted to the operator. Units are available with your choice of 24″ or 33″ drums, with standard cable control or in combination with the industry's only solar-powered infrared transmitter that gives you the ultimate in jobsite uptime. MQ/Rammax continues building on over 30 years of experience in trench compaction.
Vibratory assembly:
Rammax has the heaviest vibrator and bearings in the industry for highest production and longest life. The assembly is externally mounted for easy service access.
Control Panel:
FC/FCR units — controls and remote are protected beneath a lockable panel. All P33/24 models now display service codes to assist in maintenance troubleshooting.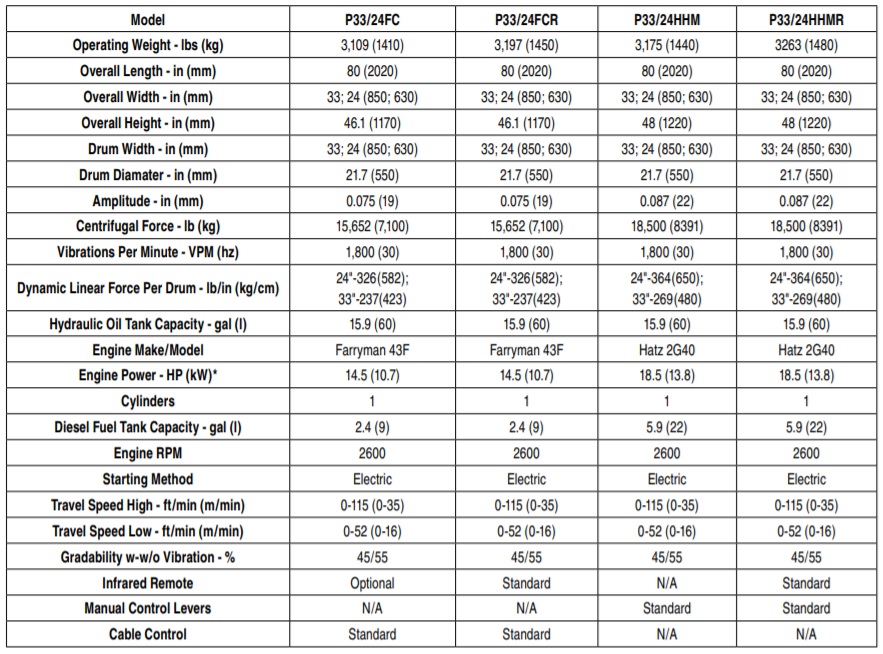 Additional information
| | |
| --- | --- |
| Prices | Daily, Weekly, Monthly |